Yippeee, after lots of work and blah blah blah I can announce my EP will be available to buy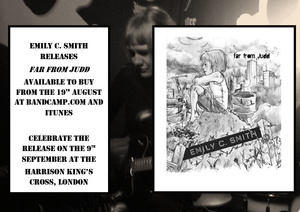 at all bad online stores from the 19th August 2016... Thank you to all the wonderful people who have helped me to do this.
The EP Far From Judd features the talented David Krupski on drums, Jak Chantler on guitar and Gareth Cobb on bass. With guest appearances from Toby Couling (The Noisettes, Newton Faulkner) and Hana Piranha (Birdseatsbaby) I play guitars, keyboards and vocals but am mostly proud of my old school drum machine wizardry on Don't Leave Me Alone. Recorded at The Fold Studios, Forest Hill, South London.  Mixed & engineered by Gareth Cobb. Mastered by Giles Barrett at Soup Studio. Produced by Me and Gareth Cobb. Artwork and design by the very talented Alexander Dalton.
We're planning a launch with our friends at
Folk Lore
to celebrate on the 9th September at the Harrison where there will be physical, hold it in your hand, CDs for sale plus some special guests performing. Come on down it'll be lovely to see you.